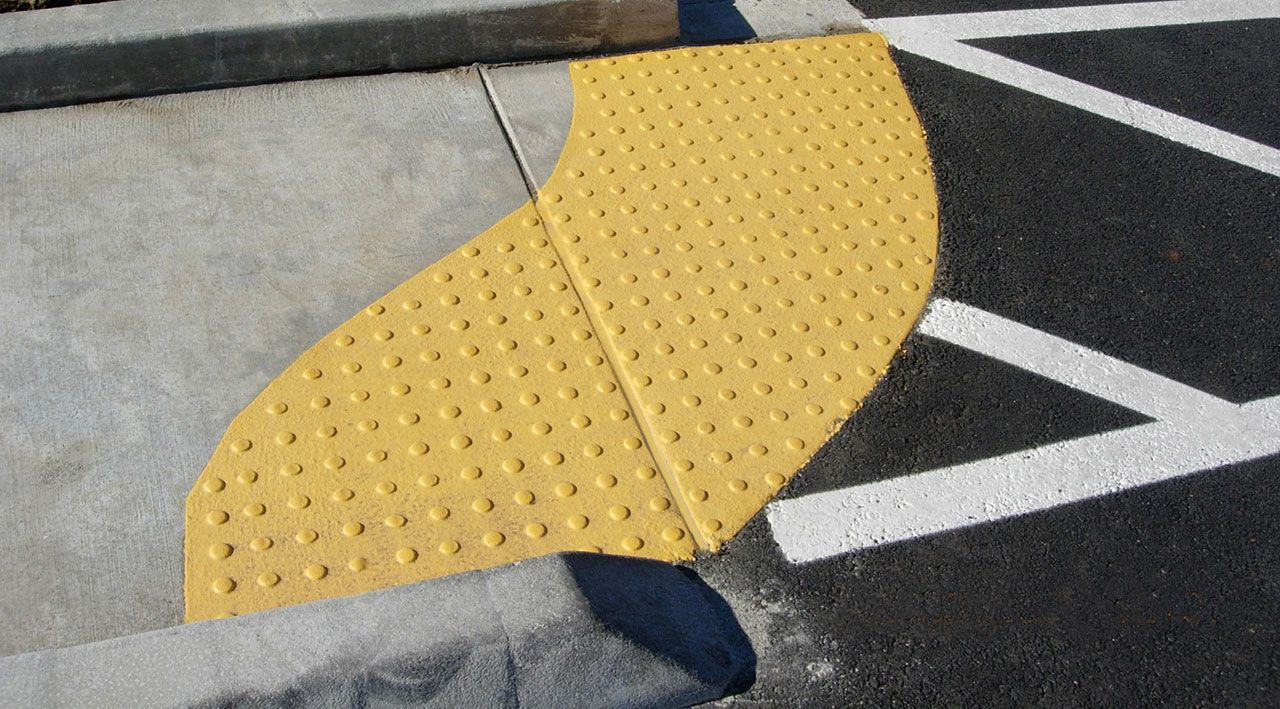 Vanguard Products
TILCO Vanguard created the Vanguard line of products because we just simply got tired of buying and installing others products that were "guaranteed to last 2 – 3 times longer than any other you've tried before" (and of course, never even came close).
Non skid tapes always peeled up, while non skid paints lasted about 6 – 20 weeks.
Detectable warning products became slippery or failed to adhere after weeks or months (and most still do). Products designed to protect against oil and solvent penetration simply failed to produce the goods.
So, instead of waiting for someone else to sell us more products that never work, we simply invented products and solutions that did.
 Vanguard Detectable Warnings
We invented the first liquid catalyzed plastic Vanguard detectable warning System in 1994 because we couldn't then, or even still today, find a detectable warning product that worked, stayed where (and as) installed, or didn't become polished smooth in a matter of months….and in some cases….weeks.
Out of pure frustration, Vanguard detectable warnings were born.  Check out this video and see how amazingly STRONG Vanguard products are just 70 minutes after installation!  In about an hour, Vanguard products are actually stronger than the surface applied to!  Crazy….(but true).  See below:
 Timed Vanguard Installation Showing Amazing Adhesion After 1 Hour and 9 Minutes
Typically detectable warnings (truncated domes) come in preformed, injection molded, plastic, "slip resistant" shapes, in a box, costing $25.00 per square foot or more.  But, when your ramp isn't that exact shape, it requires installers to cut up a $200.00 piece of plastic to get the missing piece (wasting 80% of the remainder, or more, raising the actual finished cost exponentially).
Caulking is then required at all joints, in some ramps, at dozens of locations (allowing water intrusion to occur, which of course later causes freeze/thaw heave).
When you install those products in wet concrete, that (original) 4 inches of concrete is now only 2 inches thick (barely enough to support a shopping cart, let alone a car, forklift or truck), if it's the glue on type, the first snow plow impact sends the device flying (sometimes in shards) and to top it all off, this "slip resistant" product polishes smooth in months, making it more dangerous than had nothing (ever) been installed there at all.
And so became the impetus for Vanguard detectable warnings:  Non skid (not "slip resistant"), and they remain that way for decades, not months.  Liquid applied, they follow every nuance of the surface applied, and no seams (therefore no caulking). Freeze/thaw heave is impossible and, because they're liquid applied, they can be made in any size and any shape and will follow every contour of the surface applied.
And…installed after the concrete properly cures (20 days or so), instead of setting sand bags or bricks on all (multiple) corners of every individual section or piece to insure it stays level (doesn't "float") while the concrete sets…Vanguard detectable warnings, installed after the concrete has cured, follows every nuance and attaches to every micron of the surface applied to.  New ramps or old, Vanguard installs exactly the same way….easily…and, most importantly…forever.

They work in every climate.  Wherever Vanguard products are placed, they are often the only approved detectable warning.  Cities across the U.S. already do their own installations (Bend OR, Tacoma WA, Thornton CO, New York City, among others) in every climate, and for a LOT less money.
Some municipalities won't even allow other products.
Vanguard works…every time.  (That's why we invented it!)
The rewards are vibrantly clear: No more slippery ramps, no more digging out and replacing existing ramps because of a poorly placed vault (Vanguard installs over every vault!…Yes….you CAN open it, even with Vanguard detectable warnings placed on top!), no more polished smooth domes waiting for a mobility impaired person to go "ice skating" on, and, when snow plows do cause damage, no more chipped or broken tiles, no more freeze/thaw heave, (no more seams at all, ergo, no more failed caulking!) and no more spending thousands, and 5 days of lane closures to maintain them, when 15 bucks and 90 minutes will do the trick!
No more wasteful spending, in fact, because Vanguard is liquid applied plastic, there's never any waste…PERIOD.
Of all the detectable warnings on Earth, Vanguard is THE, cost effective Leader!
It's simply a better product, and one now installed nationwide by approved trained installers (see the full website here); Vanguard ADA Systems.
Now….Detectable-Warning-CSI-specs-download available here


Available colors:
Blue, Yellow, Red, Black, White (Coming soon: Bike Path Green!….See also; EcoPath Products)

Become a Licensed VANGUARD Installer in your area!
Learn more about becoming an installer in your own region. Download our Booklet to read over things on your own time or find out how here…