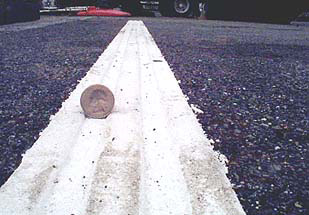 GuideStrip
A brand new product, recently installed in Seattle for SDOT, Lighthouse for the Blind, McDonalds, now also in NYC, GuideStrip is a grooved material (continuous/no seams, entirely non skid) that allow blind or visually impaired persons to track or guide themselves via the grooves of the product in the direction of travel. Also commonly known as "Wayfinding".
Detectable warnings are great to warn visually impaired folks of impending grade changes or vehicular ways, but they do nothing to indicate direction of travel.  GuideStrip, finally, provides a way that can't fail due to power loss (such as added lighting across a crosswalk), can't create dangerous raised impact points like individual tiled products can, and, like all Vanguard products, GuideStrip is completely non skid.  Because it's liquid applied, like all Vanguard products, it attaches to every nuance and micron of the surface applied, with no seams, bolts or screws.
Available colors: Blue, Yellow, Black, Red, or White.