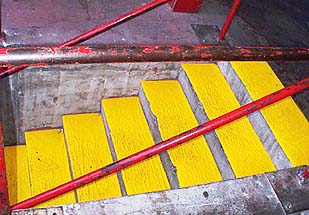 SkidGuard
SkidGuard is the superior alternative to non skid tapes or paint, with aggregate mixed in.
SkidGuard not only lasts 10 – 20 times longer than paint, but you can add aggregate to it just after applying it to make it even more non skid!  And, because all Vanguard products are liquid applied catalyzed plastic, not paint, it will hold on to any added aggregate for decades, not months!
Unlike tapes that can peel up and become trip hazards, SkidGuard, liquid applied, follows every nuance of the surface applied and "becomes one" with the surface, creating both a mechanical as well as a chemical bond to the surface applied. And unlike paint, which over a very short time loses its ability to hold aggregate, or flakes off, SkidGuard literally becomes part of, "one with", the surface.  Installed properly, it will always remove the concrete if SkidGuard comes loose!
Because ALL Vanguard products are impervious to oils and solvents, it's also the perfect coating anyplace where oil stains are prevalent such as at drive thru's, auto parts stores, in and out type retail operations.
Now, on the other hand, if you enjoy replacing the asphalt in front of your retail or residential properties every 3 – 5 years due to oil stains, TILCO Vanguard can also do that for you…we've been repairing asphalt for 38 years.  If however, you don't, TILCO Vanguard can treat your parking lot oil stain/fuel spill/chemical spill damaged areas with SkidGuard and you can say "Goodbye forever" to oil stain damage and degradation.
Ditto on blue backgrounds often painted for accessible parking.  These not only flake over time, but become very slippery with each successive re-paint.  Using SkidGuard not only insures it will be there, exactly as placed, 5 and 10 years later (looking fantastic), but it will remain non skid for the entire duration!
And, because all Vanguard products are installed at "Zero Clearance", there's no trip hazard or, anything a snow plow can grab hold of (sending preformed plastic imprints flying).
Ever.
SkidGuard is also the perfect coating for all chemical containment areas.  Totally impervious to fuels, solvents, oils and all road salts, it's the perfect choice for these dangerous areas.
Non skid AND durable.
It's what all Vanguard products are about.
Available colors: Blue, Yellow, Black, Red, or White.