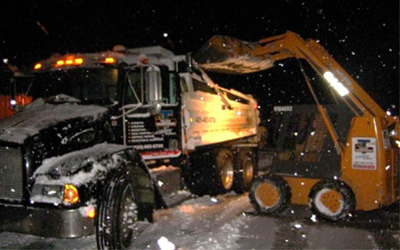 TILCO Vanguard has always been known for its prompt and responsive service; this division simply recognizes what we do best and makes available our excellent staff and equipment base of dump trucks, bobcats, clearing equipment, chain saws and more for emergency services when needed.
It isn't needed very often here in the Puget Sound, but when it is, TILCO Vanguard will be ready and at your doorstep!
We can provide water pumps, over sized tarps for roof penetrations, clearing, hauling, and just about anything else that can be done with trucks and manpower, where you need it, when you need it.
Now!
IS SNOW COMING?
Is this year "The Big One"?

(We're ready!)
Sanding                              —  $325.00/hr (min. 1/2 hour)
De-icer                                —      $3.50/lb placed
Labor (shoveling, etc.)   —  $137.00/per man hour
Sweep up sand                 —  $175.00/hr
Storm clean up                 —  $265.00/hr (min. 3 hours)
*Quotes are based on site accessibility (including ease of surrounding neighborhood roadway access) and a "per move-in" basis — due to the unpredictability of snow in the Seattle area, we bill each time snow events occur demanding our services.
"On Call" charges, due to rerouting and related, please add 40%.
DON'T GET STUCK!
Plan ahead and prepare for a frosty winter. Call (425) 483-5700 or email us to get a quote for your property. We want to make sure to get you locked in and scheduled to ensure the safest of winters for you, your tenants and guests.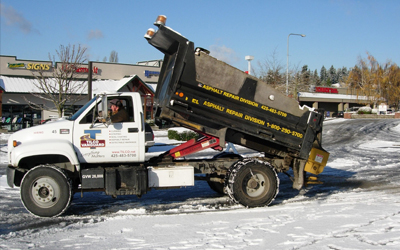 TILCO Vanguard has it all, and we'll bring it to you at a cost that fits your budget.
Below is a map of our service area for snow and de-icing services: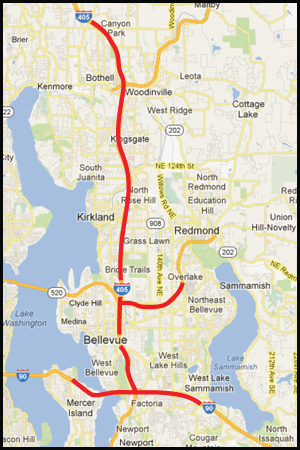 We can best serve you in the most cost-effective way within a 1-mile radius of the I-405 / I-90 / SR 520 corridor as shown in above map.
PLEASE MAKE NOTE:
Deicer is most effective when put on surfaces prior to a snow or freeze event.
Deicer does very little for a surface after if snows.