A division of Vanguard ADA Systems – Safe for the job-site, emergency, and the environment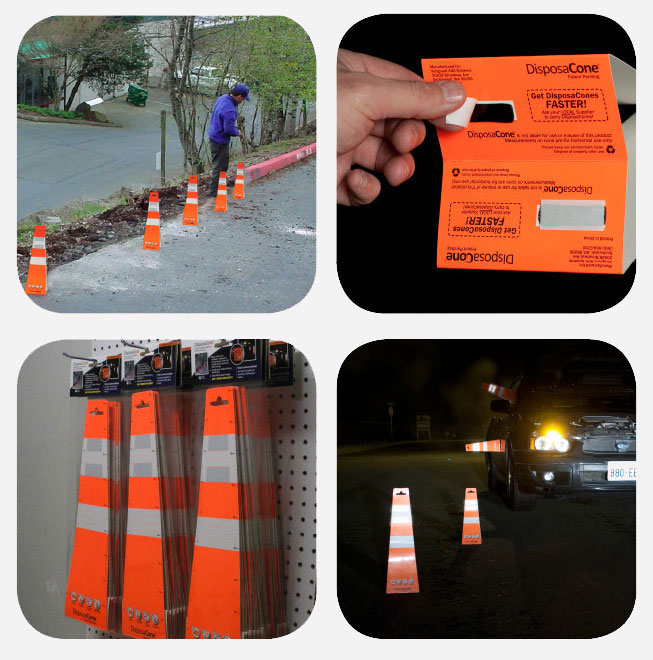 Why use DisposaCones?
Highly Visible
Compact
Costs less than regular cones
Recyclable
Won't blow away
Approved under MUTCD 6i for Temporary Traffic control
Versatile – sticks to asphalt, concrete, metal or glass
Weather resistant
Perfect for job-site, work area, public event…
Easy to use
FREE SHIPPING to Continental US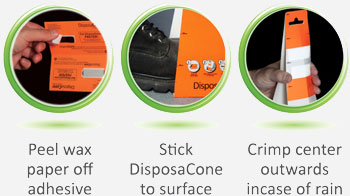 See them in action!
Every DisposaCone adheres to any clean dry hard surface, metal, glass, even painted surfaces (wet surfaces or heavy dust will affect adhesion). They can withstand wind, rain and sun. As a sustainable recyclable paper product (and the only sustainable, attachable, barricade system on Earth!), they're better for the environment than conventional cones or other barricades made from petroleum. Simply recycle with other paper products when finished.
Who Uses DisposaCones?
DisposaCone's are perfect for temporary markers, monument locators, police emergency or crime scene markers, as well as construction sites, job sites or work spaces you need to leave protected. Police and municipalities, HOA's, contractors, retail establishments, warehouses – can all benefit from Disposacone's alternative to expensive rubber traffic cones.  And….you can write messages on them!!!!
And, DisposaCone is approved for temporary emergency use by the MUTCD, subsection 6i!
The savings can really add up!
Sending production crews back at $55.00 an hour to pick up rubber cones that are going to disappear anyway, well…there's a word for that…and it ain't flattering. Now, you can tell the on-site staff "this project will be ready for traffic in 6 hours" and while they're pulling your DisposaCone's for you…you're already on another job making more money!